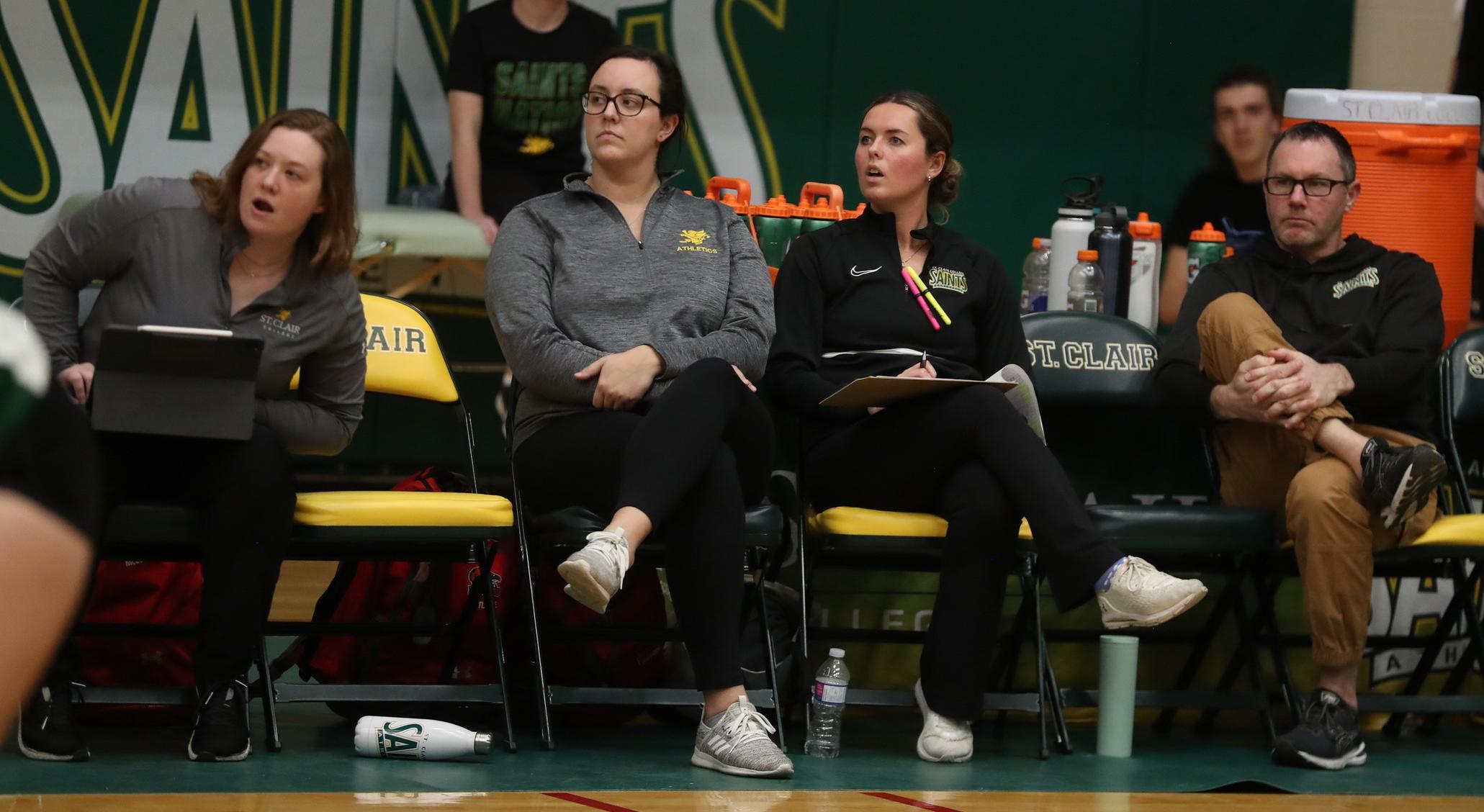 St. Clair women's volleyball new head coach Julie Ann Milling has named her coaching staff for the upcoming season.
There will be some familiar faces to the program with three of the assistants returning from this past season.
Taylor Fitzgerald has been on the staff since 2018 and will be back with the team. Taylor was born and raised in Windsor and graduated from Vincent Massey Secondary School. Taylor graduated from both the University of Windsor and St. Clair College before attending the Canadian College of Health, Science and Technology to pursue her current career as a Registered Massage Therapist. Taylor captained the Saints for two seasons, earned a OCAA All-Academic in 2015-16, captured an OCAA Bronze Medal in 2018 and was named to the OCAA Championship Tournament All-Star team.
Scott Clements will be remaining on with the staff. He is an elementary school teacher who was born and raised in Windsor. He played briefly with the University of Windsor before shifting his focus to beach volleyball. Scott has coached at all levels of the game starting at elementary school, through all levels of club and on up to post-secondary where he was fortunate enough to win an OCAA gold with the St. Clair women's team in 1997. After a brief hiatus, Clements returned as head coach the men's volleyball team for seven years before returning again as an assistant coach for the women's team in 2019.
Victoria Warner, who has been an assistant since 2016 is also returning. Victoria was born and raised in Windsor and graduated from Holy Names High School. Victoria then went on to play NCAA Div II volleyball at Alderson Broaddus University in West Virginia, where she majored in Psychology & Criminology. As an athlete, Victoria was named the Conference Rookie of the Year in 2011 and earned 2nd Team All-Conference nods in 2012, 2013 and 2014.
One new face on the bench will be Jordyn Pranger. Jordyn was born and raised in London, Ontario where she graduated from Medway High School. Jordyn graduated from St. Clair College getting diplomas in Educational Support and Autism Behavioural Science. Afterwards Jordyn attended the University of Windsor to continue her studies in Child Psychology. Jordyn was a part of the St. Clair women's volleyball team from 2017-2021. While there she helped the team earn a OCAA Bronze Medals in 2018 and 2020 and has been coaching with the South County Bandits and OnPoint beach volleyball for two years.
Milling is excited to be working with this coaching staff. "Taylor, Scott, Victoria and Jordyn each have a unique piece to bring. This helps us get better when you have eyes on different parts of the game. They are all very familiar with the OCAA and the women's program here at the St. Clair. Each of them have won an OCAA medal with this program and know what it takes to get us there. I cannot wait to get started building this team with them."