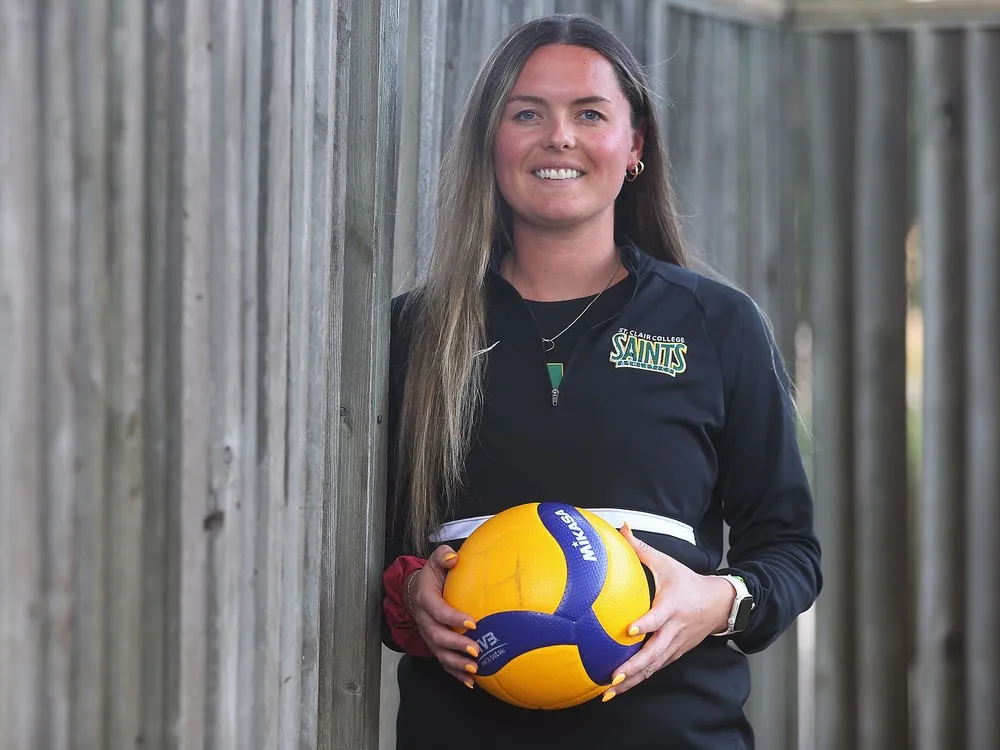 The St. Clair College Athletic Department is pleased to announce Julie Ann Milling as the new Varsity Women's Volleyball Head Coach.
Julie Ann was born and raised in Woodstock and attended Woodstock Collegiate Institute. Milling has earned her Bachelor of Arts, Communications, Media and Film from the University of Windsor. She then went on to earn her Fitness and Health Promotion Diploma at St. Clair followed by a Graduate Certificate in Event Management. While attending St. Clair she also spent time working with the Recruitment and Marketing Department.
Julie Ann has been the lead assistant coach for the St. Clair women's team since 2020. While with the Saints she took part in the CCAA Female Coach Apprentice Program. During her time as Lead Assistant the Saints qualified for the playoffs each season and went to the OCAA Championship this past year. Milling has had key roles in both recruiting and many technical aspects of the game.
Milling also has an extensive amount of club coaching experience with the South County Bandits and Sky Volley since 2020. Many of her players have gone on to play in the CCAA and U Sports. One of her recent highlights was winning a pretigious tournament in Pittsburgh with the South County 16U girls team that featured top teams from across North America.
Julie Ann played for the Saints as a Libero from 2016-2020 and was team captain for three of her four seasons. She is one of St. Clair's most decorated female volleyball players. Milling won OCAA Bronze Medals in 2018 and in 2020 and was named an OCAA All Star in 2018 and 2019. She was named a CCAA Academic All-Canadian in 2018-19 and was an OCAA All-Academic award winner four times. She was named St. Clair's Mason MacDonald Graduating Athlete of the Year in 2018-19.
Milling is currently employed full time by OnPoint Beach Volleyball as the Program Director- Communications and Lead Ontario Beach Volleyball Coach.
Julie Ann will be naming the rest of her coaching staff in the near future.
"St. Clair is extremely proud and excited to have Julie Ann take over our women's volleyball program," noted Vice President Ron Seguin. "To have a St. Clair alumnus, former outstanding student-athlete and a female that has put in her time as assistant coach lead our program leaves us no doubt that the team in is great hands moving forward. Julie Ann's experience as player and coach at the club level will be huge assets in continuing to make St. Clair women's volleyball one of the top programs in Canada."
Milling cannot wait to get started. "I am honoured to take on the role as Head Coach of this program. Coaching allows me to make a positive impact in the lives of athletes and this is what fuels my passion to inspire other women in this sport. The athletes, athletic staff and teams at the college are all familiar to me. I know the group of athletes we have and the recruits that are coming in and I am excited to continue to strive for greatness with them. We have pieces in place to ensure this program continues to be successful on and off the court."
COACHING EXPERIENCE
Lead Assistant Coach St. Clair College Women- 2020-2023
Lead Coach- OnPoint Beach Volleyball-2018- Present
Head Coach- South County Bandits 16U National Girls 2022- June 2023
Assistant Coach- South County Bandits 14U Teal Girls- 2021-2022
Head Coach- Sky Volley 18U Girls 2020-2021
VOLLEYBALL PLAYING EXPERIENCE
St. Clair College 2016-2020
University of Windsor 2013-2014
OVA Club 2011-2013
CERTIFICATIONS
Registered NCCP Coach
Training In Advanced Development, Indoor Volleyball
Training in Advanced Development, Beach Volleyball
Psychology of Performance
Foundations of Volleyball
Making Ethical Decisions
Making Headway In Sport
Safe Sport Training- Direct Athlete Contact